Showings and Events – 2019
Bibler Home and Gardens is privately owned and you must contact us in advance to visit. We are open during May, July and August only (no June or September showings), and are closed on weekends (except for specific events in May).  Please read the following carefully.
Splendid Summer Evenings July 22-26
A huge thank you to all who attended, and to all those who volunteered their time!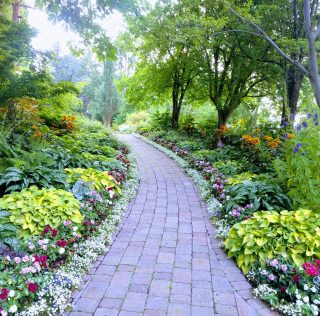 Sweet Summer Days August 1 and 2
Spend part of  a sweet summer day at the home and gardens. Choose an 11 AM or 1:30 PM tour time. Guided tours of the home and gardens are 2 hours and include plenty of time to explore the gardens on your own. Tickets are $15 for adults, $5 for children.
Tickets must be purchased in advance–no ticket sales at the door.  For tickets, call (406) 756-3632, or purchase tickets online.
All proceeds benefit student scholarships at Flathead Valley Community College.
Private Showings
We highly recommend attending one of the scheduled events above, but if you're unable to do so, you may arrange a private showing for up to 30 people. We charge $15 per person, with a $150 minimum charge. We provide these opportunities during daytime hours on weekdays only.  Examples of private showings include home and garden tours, picnics, educational tours, plein air painting and photography classes. We can also accommodate small group photo shoots (e.g., portrait sessions) for a smaller fee.
To arrange private showings, please call 406-755-6578 or e-mail Tyler .
Please note that we do not host weddings or similar events.  We do provide limited opportunities for selected non-profits to host fundraisers or donor thank you events.
We're located 10 minutes west of downtown Kalispell. Our address and driving directions will be provided when you arrange your visit.